An online Catalogue Raisonné of the
"Nanas" of Niki de Saint Phalle is forthcoming.
Niki de Saint Phalle has created a large number of "Nanas" in her career with different materials, in different shapes and dimensions. The catalogue raisonné will document this aspect of Niki de Saint Phalle's oeuvre. It will illustrate the range of Niki de Saint Phalle's creative achievements in this field.
The Catalogue Raisonné of Niki de Saint Phalle's "Nanas" aims to be a comprehensive publication that will reproduce and list all known works. It will establish as definitive an inventory as possible of Niki de Saint Phalle's authenticated "Nanas".
We would be most grateful to receive information from private and public collectors who wish to propose Nanas for inclusion in the Catalogue Raisonné. Please kindly complete the online form or contact us by email: nanacatalogue@gmail.com
While we hope you will be able to supply as many details as possible for the accuracy of our research, we understand that some information may be sensitive, personal or private. Please be assured that all information provided will be treated in the strictest confidentiality. All requests for anonymity will be fully respected.
With thanks for your time and support for the project.
Catalogue Raisonné Images from left to right - Nana boa ou Nana au serpent, 1983 Gwendolyn, 1966-1990 Madeleine ou Nana Patchwork, 1966 Photos: Laurent Condominas Nana noire - upside down, 1965-1966 Photo: © MAMAC Nana boule (orange), circa 1966-1967 Photo: © André Morain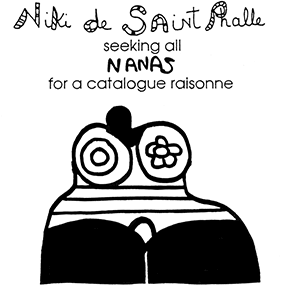 Online Form